WELCOME TO
BBV POWERSPORTS
---
BBV Powersports is owned and run by the most innovative motorcycle specialists in the city of Las Vegas. The business was set up years ago by a keen rider, and a businessman whose vision is to create an outlet for cycling enthusiasts. Smitten by a bike bug, BBV Powersports remains to steadily expand in extraordinary ways
From here, you'll find that BBV Powersports is a collection of premier vehicles dedicated to selling and repairing. Their comprehensive solution to all motorcycling issues is one of their highlighting features as people from all parts of the city sought their services.
It started off as a modest shop built on possibilities. Its owner welcomed any motorcycle that saw its way to the shop. With long-lasting services, BBV Powersports wanted to emerge into bigger endeavors since more people have shown interest in the industry.
With sales going up every month and thousands of visitors per month on their site, the word is spreading like wildfire. Not only are sales a great factor to their success, but their repair services exceeds the competition. That being said, they're the leading motorcycle services in Las Vegas.
At BBV Powersports, the passion for riding is well-embraced as the road becomes a familiar companion. Whether it's the call of the racetrack or offroading, it's the adrenalin pumping through the veins that steer us to the right direction.
— Eric J., President of BBV Powersports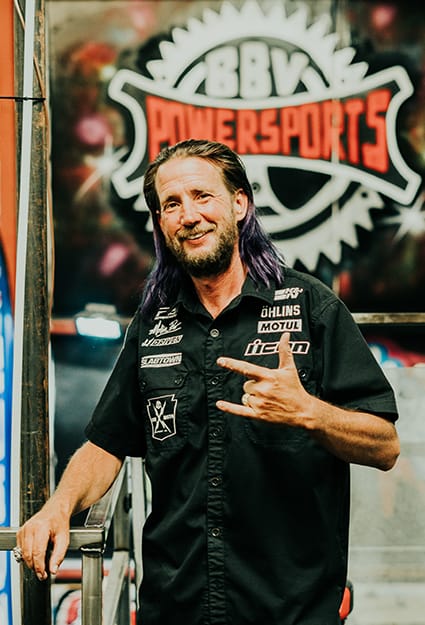 TIMES THEY ARE
CHANGING
Just like a reliable vehicle, you'll find that our website has changed its look and feel. We've changed the designs to sleeker appeals that truly mirrors the riders perspective. Navigation is easier, and riding just got simpler.
Everyone in our team goes through substantial training to offer you the information and knowledge to make a decision in selecting the motorcycle that fits your preference.
– Dynamic selections of vehicles
– Custom-tailored service for quality selection
– Quick financing approvals in minutes
– Dependable vehicles assured to last a lifetime
– Guaranteed affordability with competitive prices